The need for mobile business phone is greater than ever before now as we all have become mobile, globally, within the country, within your state, within your city and even within your office. I work at the edge of the Google complex and our hosting partner is within the Google complex. It is a five to six minutes drive or 10-15 minute bike ride. If you thought that is large, imagine all the Google workers traveling from office to office on their colorful bikes, with headphones showing. One can easily see that all of them are not listening to music because they are talking while riding.
That is how mobile we are now, even skipping in to the boundaries in to our off work times and weekends.
OnSIP has been a regular feature
(This
free SIP account providers
is in much need of an update) on our blog and the app comes from them.
The App I am discussing today, OnSIP mobile app (available on both
iOS
and
Android
and even a
desktop companion
), has a solution for the latter problem. Which is happened to mention by developers slightly but I thought very important and productive. Using apps like OnSIP, allows one to work when you work and be off work when you don't but with a little twist, still allowing you to keep your mobile phone on for regular needs. When you're using OnSIP app and once done for the day, just log out of the app. Your credentials will be saved for next morning, next day. If you need to get away for short moment, like meeting or a much needed nap, you can turn on the "Do not Disturb" by switching on a toggle button in the Settings tab.
Now on to other stuff about this mobile app. The best part of the OnSIP app is that it brings your business phone to you, whether you're at the office, at a client's site, or working remotely. You can work as if you are sitting at your desk, no matter where you are. The larger part of attributes to the OnSIP's capability bringing standard business phone features without the additional hardware. You will be able to make HD voice and video calls, monitor contacts and recent call history, and also manage your voicemail in one simple interface.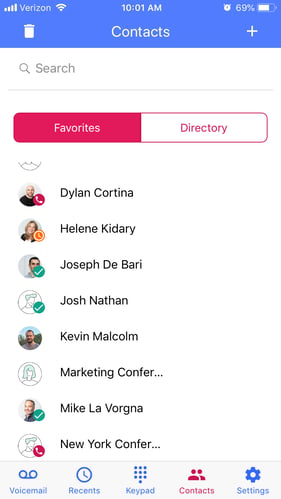 OnSIP for iOS and OnSIP for Android are now available to all OnSIP users for free.
Learn much more about the app, both for Android and iOS and much more about the services the OnSIP offers business'
here
.