VoIP Supply is hosting a
@
digium
Fast Start Training and they want you to be a part of it! Registration is open now!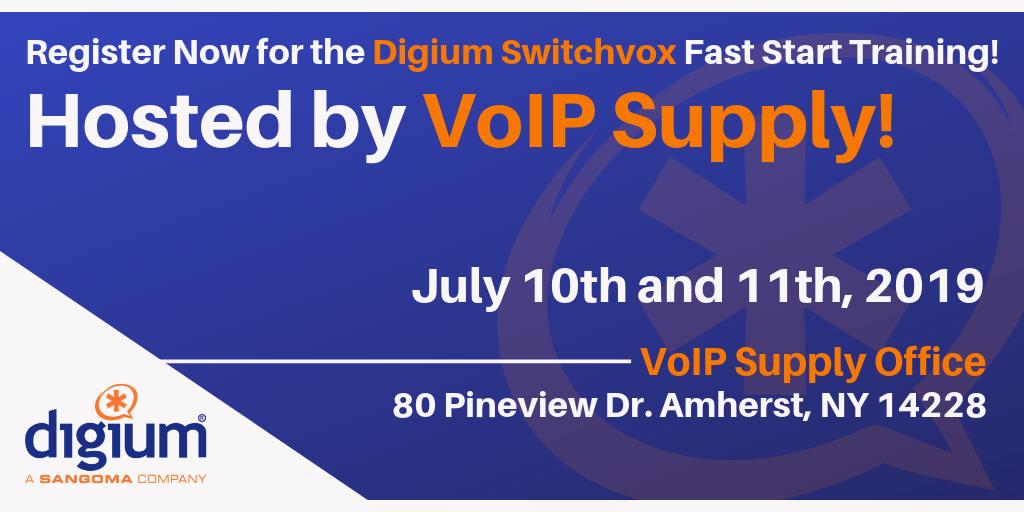 Register Now for the Digium Switchvox Fast Start Training!
We are hosting a Digium Fast Start Training and we want you to be a part of it!
Switchvox Fast Start is a great opportunity for sales engineers, technicians, and installers to get a hands-on introduction to Switchvox and access to Q&A sessions with Digium's pre-sales engineers. Best of all, training is FREE. That's right, there is zero cost to be a part of this great opportunity.
When?
July 10 and 11, 2019
Where?
Our office located at 80 Pineview Drive, Amherst NY 14224.
Prerequisites:
Practical understanding of data and voice networks

Basic understanding of Switchvox menus acquired through experience with your Switchvox demo system
What to bring:
All students must bring a laptop computer for optimal participation in hands-on configuration.
Enrollment:
Seats for the Switchvox Fast Start course are offered on a first come, first served basis. The class can accommodate a maximum of 8 students. Fill out the form to register NOW before spots fill up!
Topics:
Switchvox Installation and Configuration

Out-of-the-box setup experience

Initial network configuration

Intro to Admin, change admin password

Register/activate, update software

Configure first SIP extension (handset)

Hardware setup analog




Connecting analog lines

Configure FXO channel group

Configure FXS channel group

Hardware setup digital




Connecting T1/E1 lines

Configure PRI channel group

Configure VoIP Provider

Configure outgoing call rules

Configure incoming call rules




Focus on features

Intro to user Switchboard

Create & Maintain Phonebooks

Configure Music on Hold

Configure basic IVR

Configure directory

Using extension permissions

Using extension groups

Using extension templates

Managing recorded sounds

Managing time frames

Add G729 support

Integrating web apps with Switchvox SMB (call creation API)

URL Manager, pushing call data to external web apps/services

Firedialer




Care and feeding

Create a backup, setup automatic backup

Restore from backup

Using call logs and reports

Basic Telephony/VoIP Overview

Explain PSTN technologies




Analog lines / cards

Digital lines / cards

Before you buy

Compare and contrast the Switchvox family of appliances.

Subscriptions and support options